The Input Channel Audit
A quick How To guide for shaping your information diet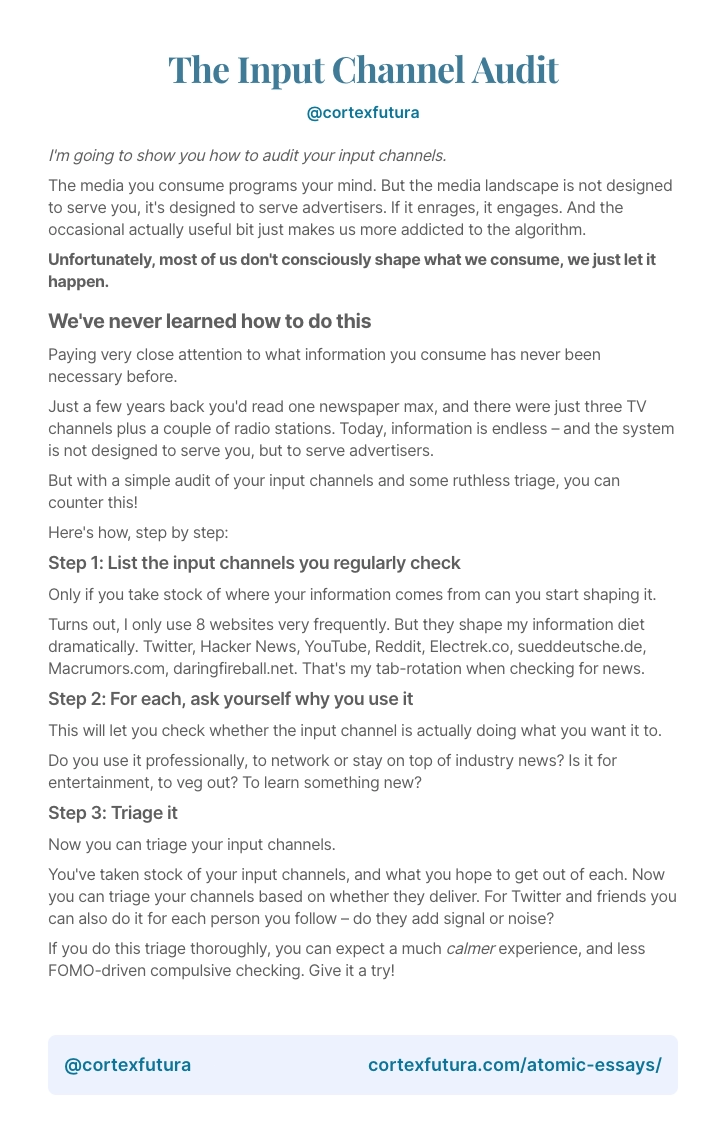 I'm going to show you how to audit your input channels.
The media you consume programs your mind. But the media landscape is not designed to serve you, it's designed to serve advertisers. If it enrages, it engages. And the occasional actually useful bit just makes us more addicted to the algorithm.
Unfortunately, most of us don't consciously shape what we consume, we just let it happen.
We've never learned how to do shape our inputs
Paying very close attention to what information you consume has never been necessary before. Just a few years back you'd read one newspaper max, and there were just three TV channels plus a couple of radio stations. Today, information is endless – and the system is not designed to serve you, but to serve advertisers.
But with a simple audit of your input channels and some ruthless triage, you can counter this!
Here's how, step by step:
Step 1: List the input channels you regularly check
Only if you take stock of where your information comes from can you start shaping it.
Turns out, I only use 8 websites very frequently. But they shape my information diet dramatically. Twitter, Hacker News, YouTube, Reddit, Electrek.co, sueddeutsche.de, Macrumors.com, daringfireball.net. That's my tab-rotation when checking for news.
Step 2: For each, ask yourself why you use it
This will let you check whether the input channel is actually doing what you want it to do.
Do you use it professionally, to network or stay on top of industry news? Is it for entertainment, to veg out? To learn something new?
Step 3: Triage it
Now you can triage your input channels.
You've taken stock of your input channels, and what you hope to get out of each. Now you can triage your channels based on whether they deliver. For Twitter and friends you can also do it for each person you follow do they add signal or noise? If you do this triage thoroughly, you can expect a much "calmer" experience, and less FOMO-driven compulsive checking. Give it a try!
Related Topics
Join the Cortex Futura Newsletter
Subscribe below to receive free weekly emails with my best new content, or follow me on Twitter or YouTube.
Join and receive my best ideas on reading, learning, and Knowledge Ops