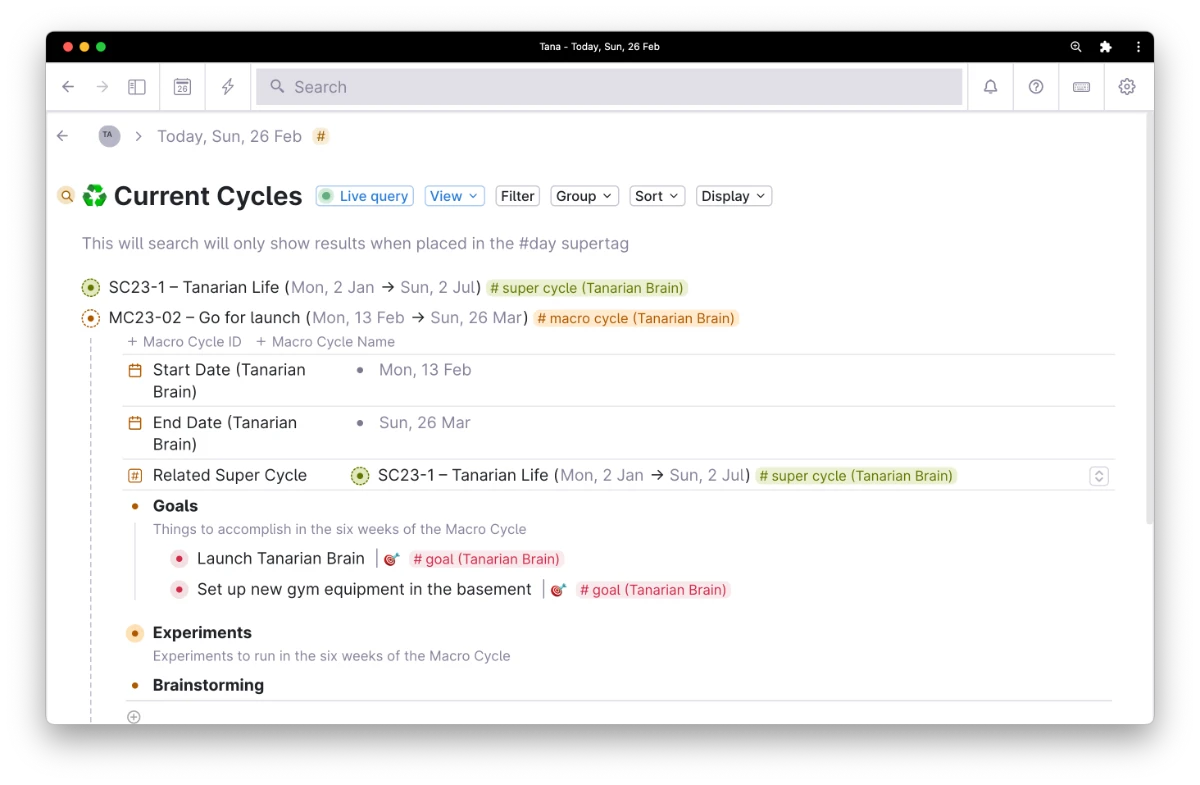 Reach Second-Brain Flow State
Tanarian Brain unites PARA, GTD, Zettelkasten, and more in Tana to bring you what you've always been looking for: flow.
🧠 Everything Is Connected
Folder-based, hierarchical organization is out. Tools that connect our thoughts and ideas seamlessly with our projects and tasks are in. Tanarian Brain connects them all for you - in Tana.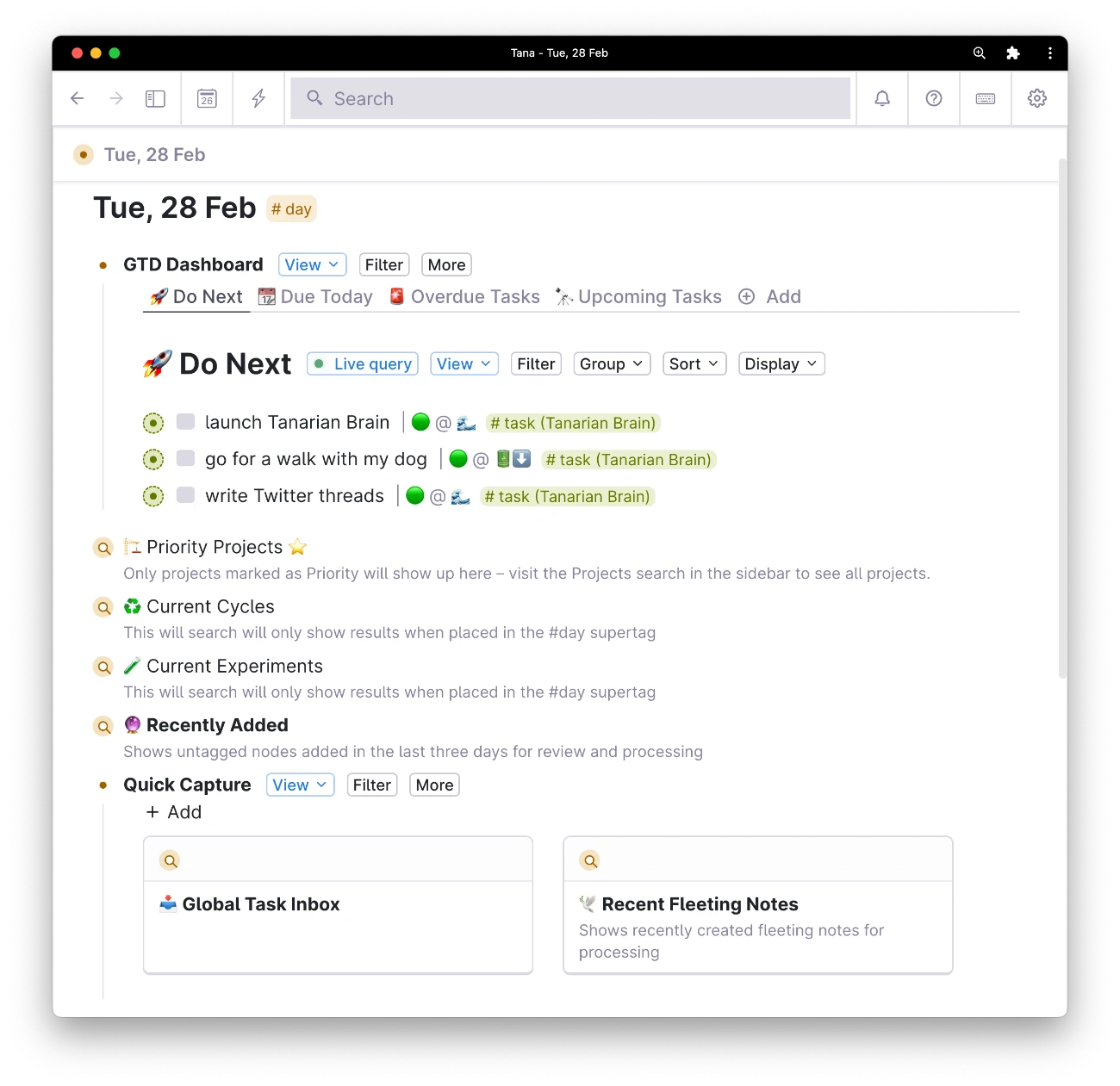 Tanarian Brain comes with a full implementation of the best workflows from the productivity and "Tools for Thought" community.
Whether you want to take notes the P.A.R.A way or prefer Zettelkasten, whether you want GTD®-style task management or to do it free-style - this template has you covered.
What's more, this template does not force you chose one approach over the other - it integrates them all together into a cohesive whole.
Your fleeting notes can be connected to projects that work towards your goals - linked to areas and resources and always just a click away. Everything is connected.
🚀 Capture At The Speed of Thought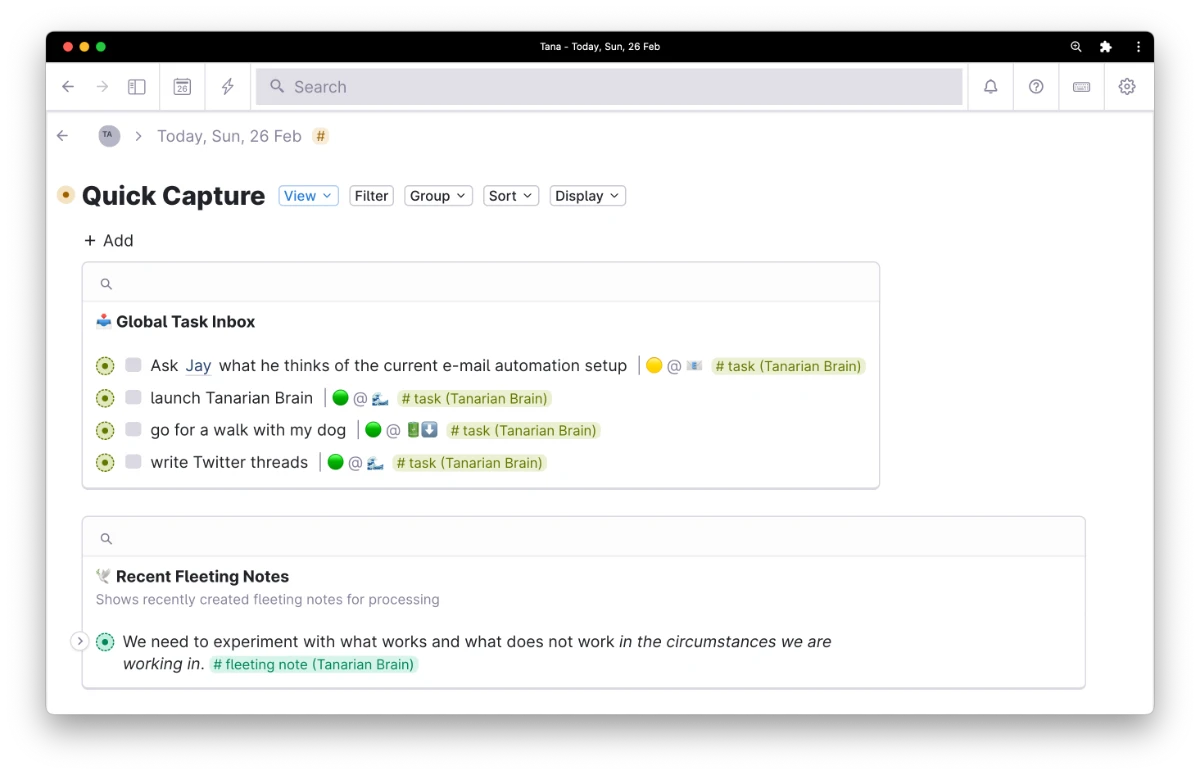 Whether fleeting notes or tasks, your second brain should save them quickly - and show them to you again at the right time.
Tanarian Brain does that.
With a Global Task Inbox and a Recent Fleeting Notes dashboard you have everything under control.
Save anything, anywhere, and process it on your daily node dashboard. It will flow right where you'll need it next.
🎯 Plan and Execute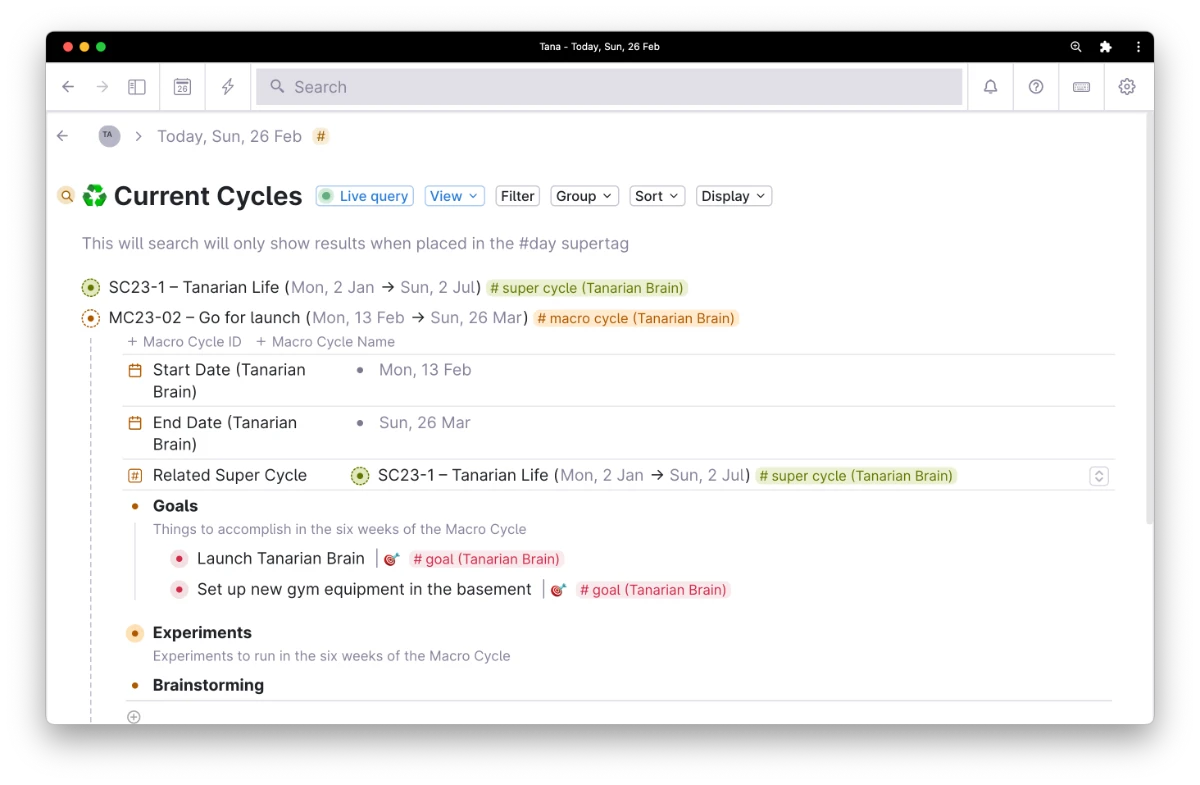 You have goals, and reaching them will require work - from hours to months.
Planning that work, and then executing on that plan, is the key to everything.
Tanarian Brain comes with the built-in cycle planning methodology that has been battle-tested by thousands of people: from 30min Nano-Cycles to six-month-long Super Cycles, every piece of work will connect to a larger whole.
🏗 Manage Your Projects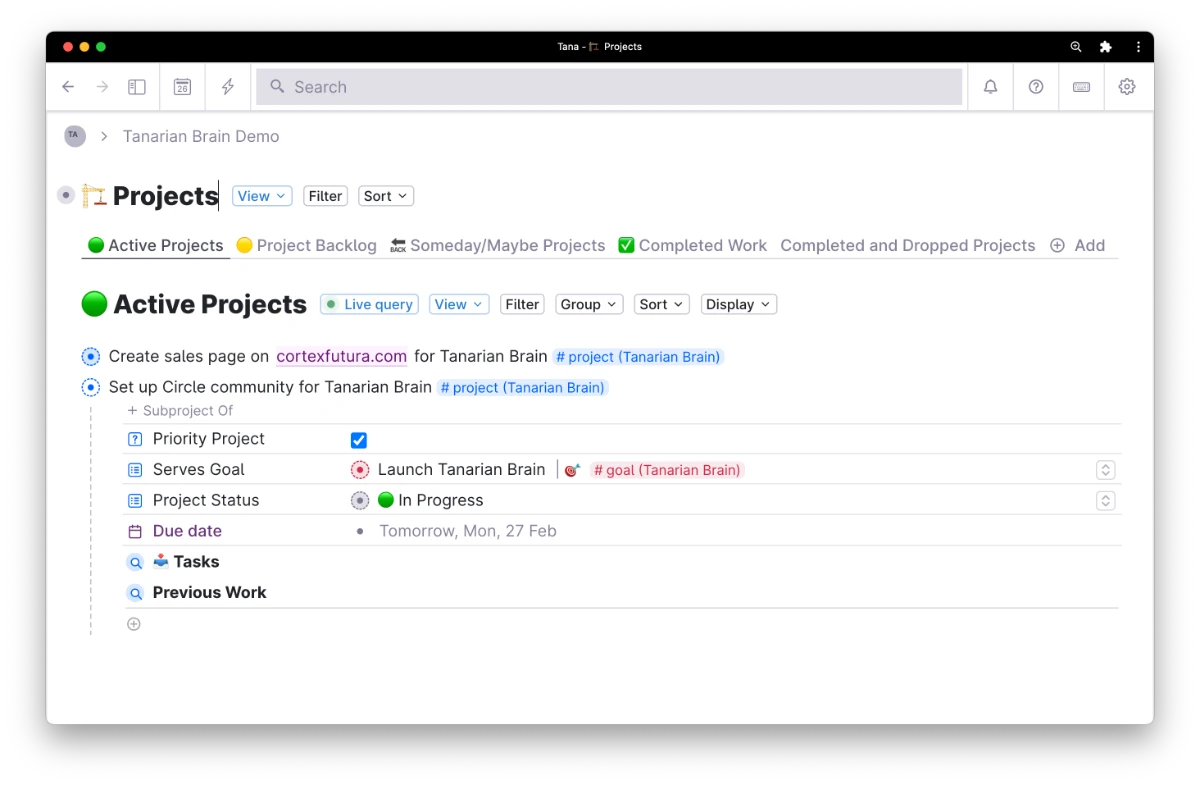 Have you ever needed to jump between a task management app and a note-taking app for a project?
Well, no more.
Through the magic of Tana's live searches and supertags, everything flows together automatically.
Your tasks, your previous work, every time you've mentioned a project - it all appears magically in the right spot.
🗃 Learn With Your Zettelkasten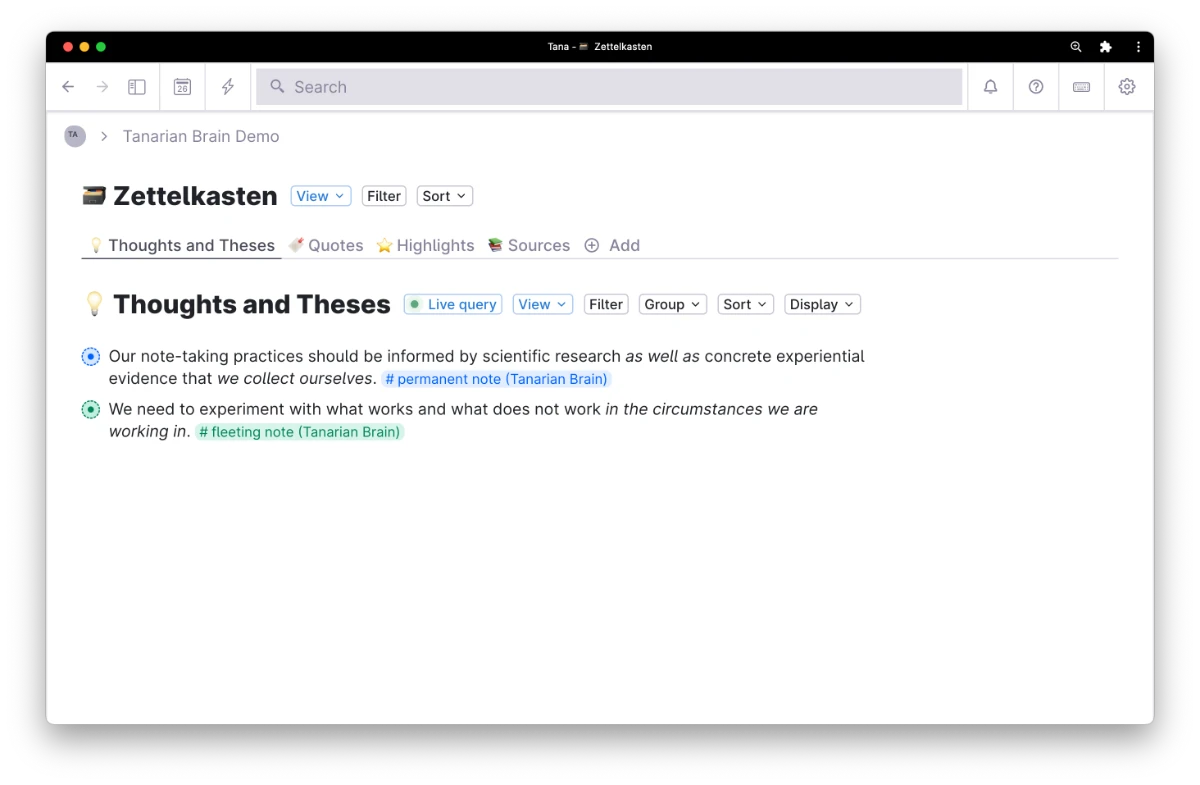 Fleeting notes, permanent notes - it's all there.
The magic of the Zettelkasten is that you never have to decide "where to put something" - it will show up again when you need it.
Tanarian Brain doesn't just come with built-in supertags for fleeting and permanent notes.
By including supertags for topics and even nestable concepts, the web of your notes will grow ever stronger - and provide endless unexpected insights.
📑 Built-In P.A.R.A.
Use Tiago Forte's proven methodology to organize your life and work. Projects, Areas, Resources, and Archives are a centerpiece of Tanarian Brain.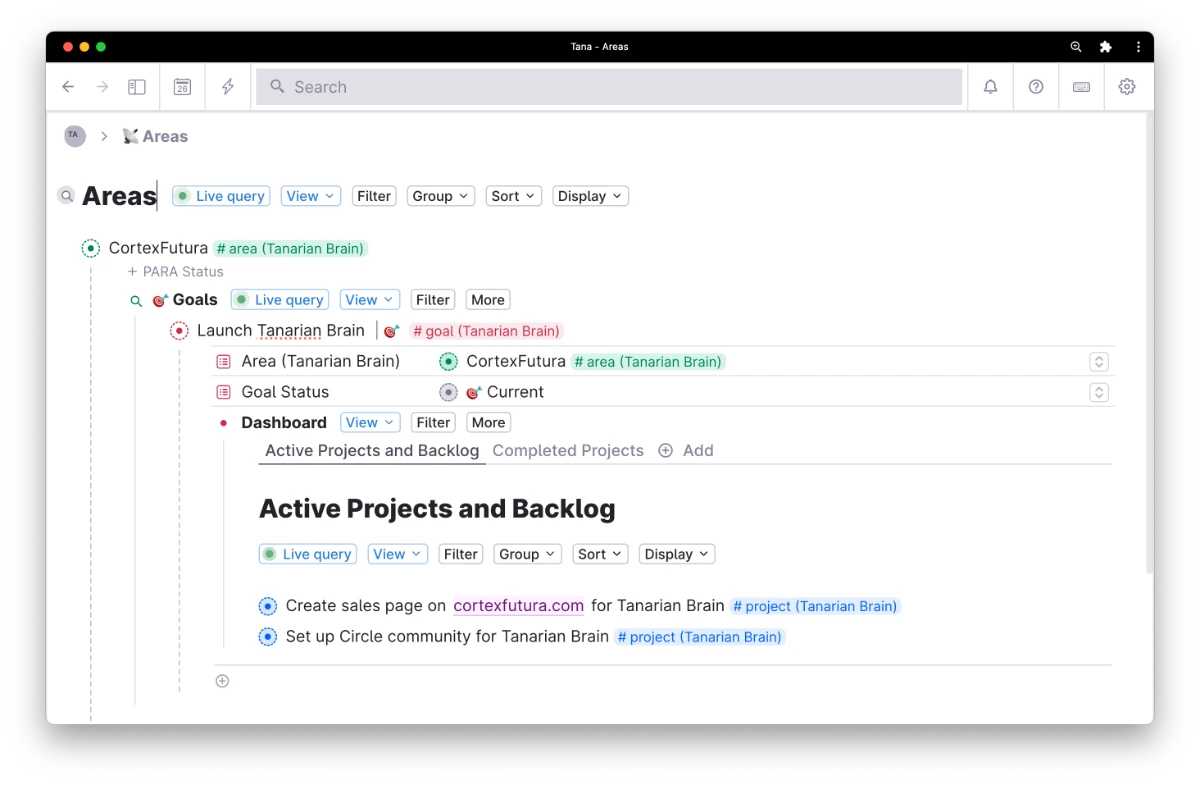 Tiago Forte's bestselling book Building a Second Brain has taught his four categories of organization to the masses:
Projects - tasks linked to a goal
Areas - spheres of activity with a standard to be maintained
Resources - topics or themes of ongoing interest
Archives - inactive or no-longer-relevant projects, areas, or resources
Tanarian Brain doesn't just implement P.A.R.A. - it integrates it deeply with note-taking approaches like Zettelkasten or Question-Claim-Evidence and task-management methodologies like GTD.
And through the powerful features of Tana's supertags and live searches, it's possible to build dashboards that aggregate information across multiple levels.
🖊️ Journal, Yearly Review, Concepts, and more!
Write a daily journal, note down your wins and misses, and collect them automatically in your yearly review. Understand how different concepts are connected, and so much more…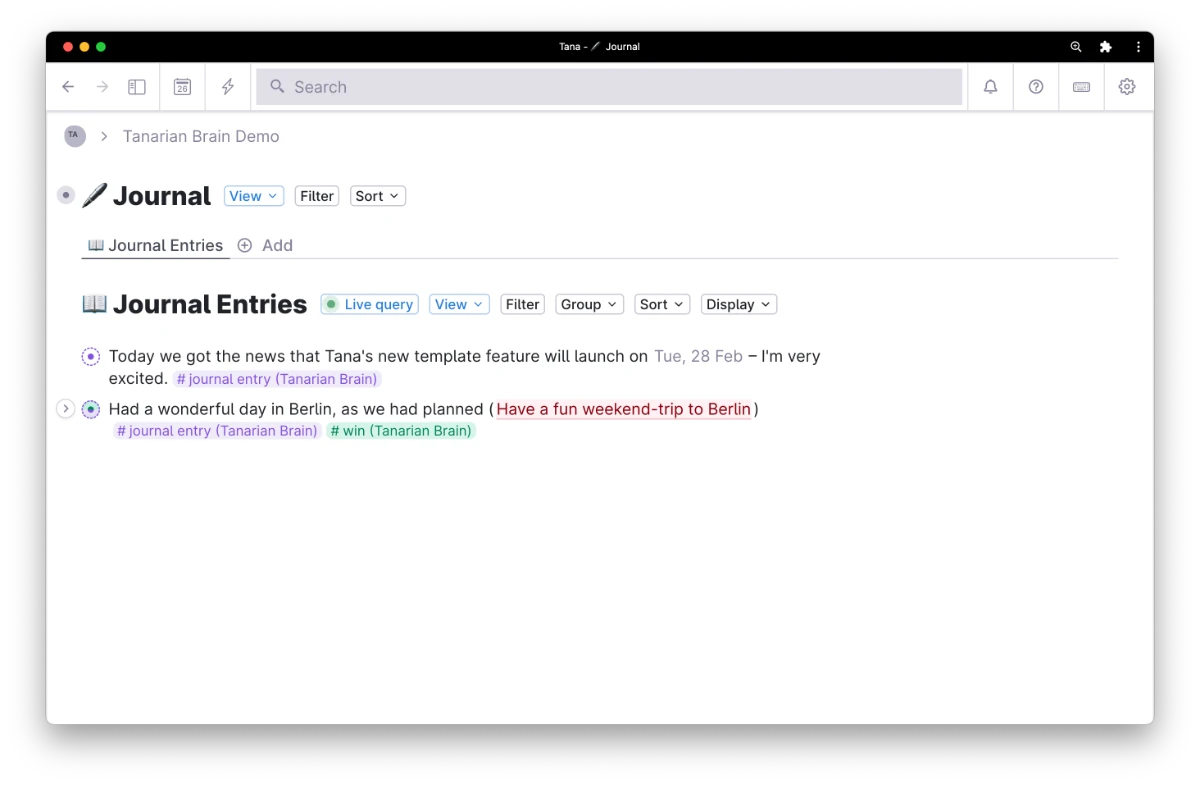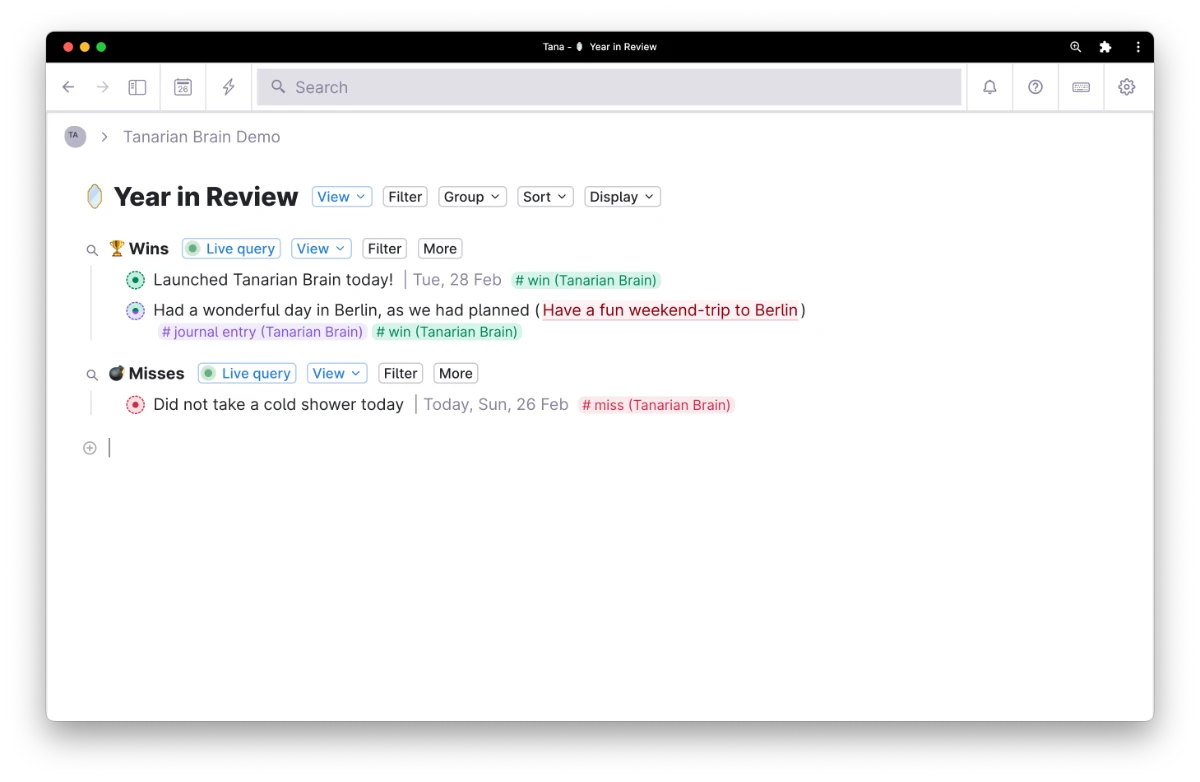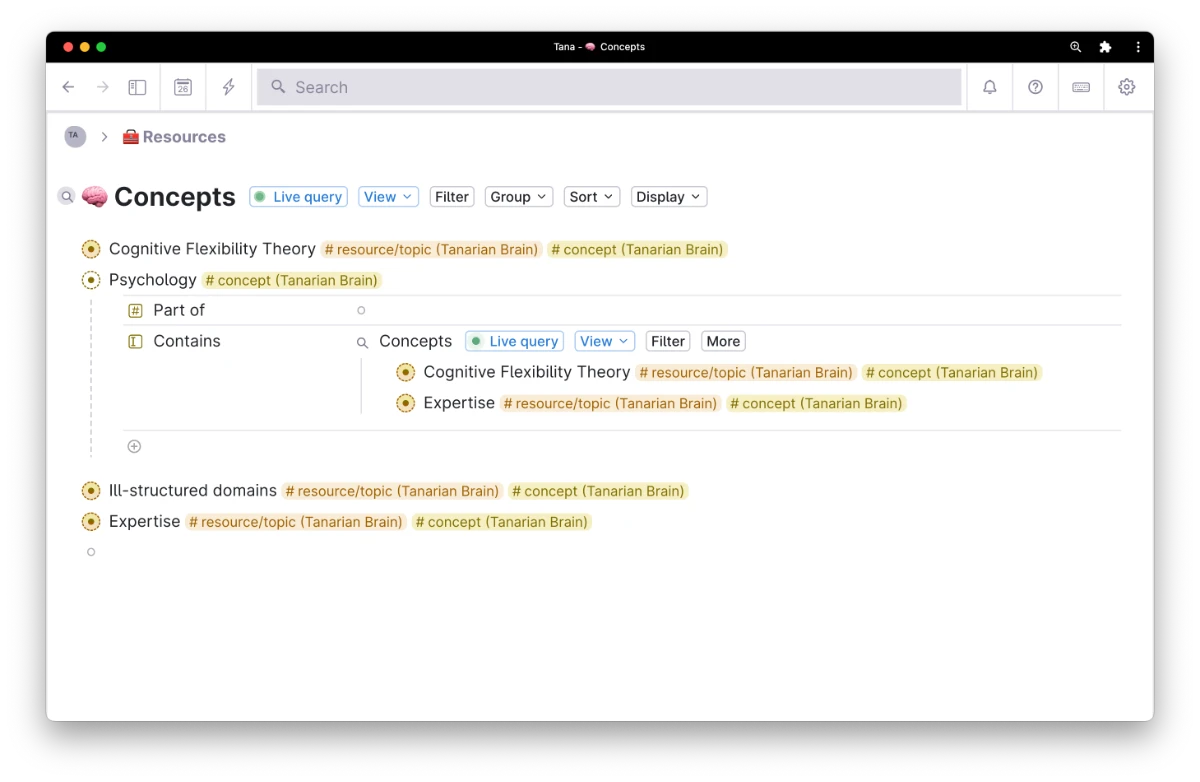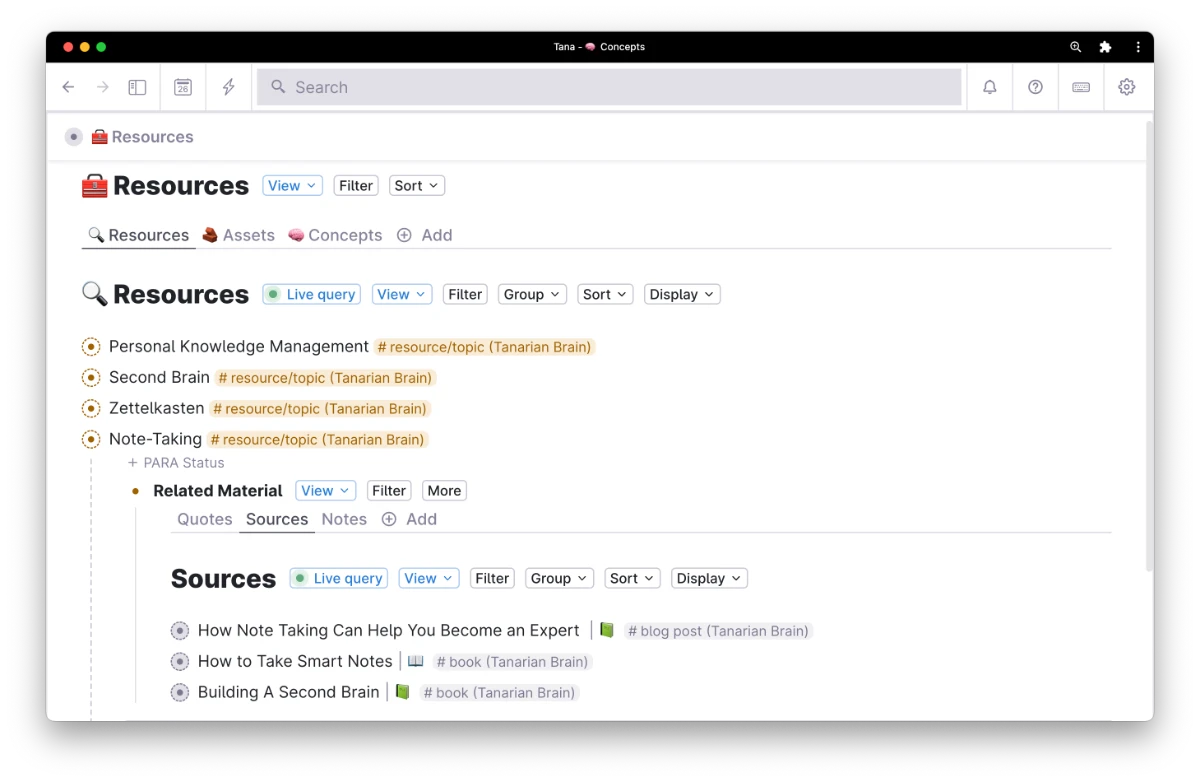 GTD®-Style Productivity
Are you a fan of David Allen's GTD® method for task- and project-management? You're in luck! Tanarian Brain comes a full-featured GTD®-style task management dashboard.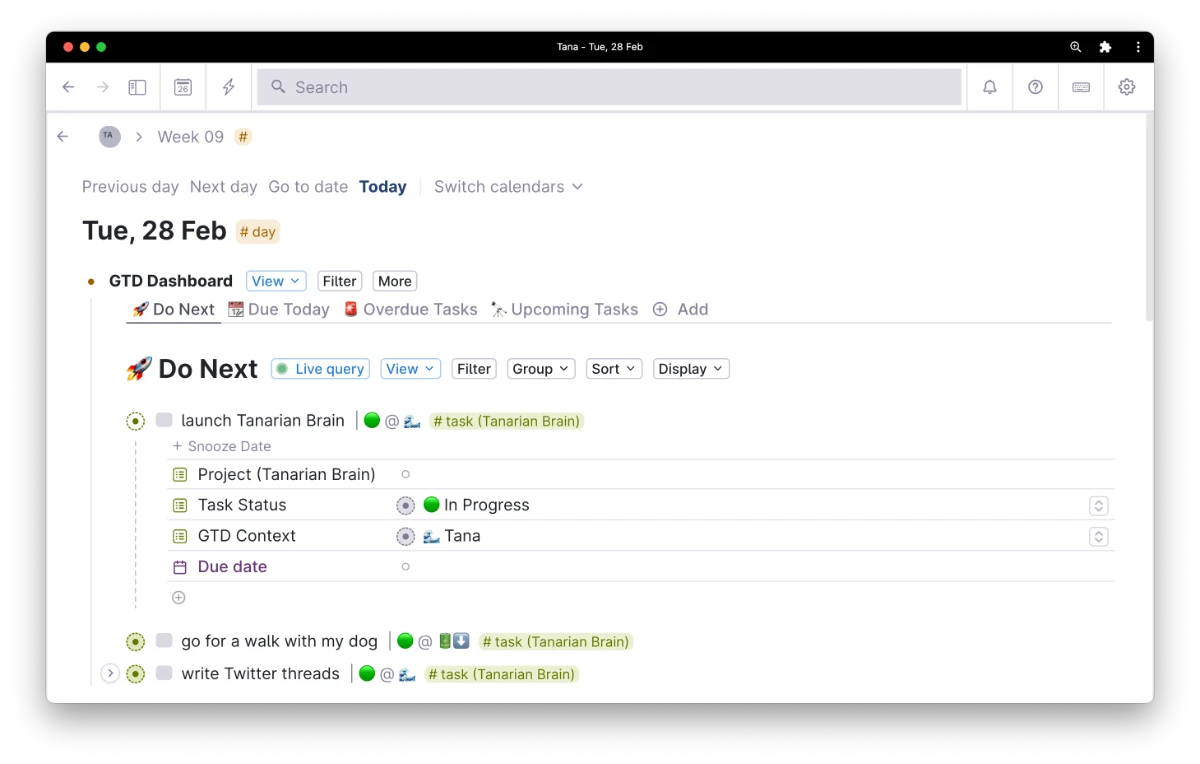 David Allen's Getting Things Done® method for, well, getting things done has been a world-wide success for a reason - and is of course included in Tanarian Brain.
From a Global Inbox to a dashboard showing Do Next, Waiting For, Someday/Maybe, and more. If it can be implemented in Tana, it's there.
Don't want to use GTD®? Totally fine - you can manage tasks any other way too.
🏥 Extensive Support
Learning curves are hard. Tanarian Brain is designed to be as intuitive as possible, but sometimes you need a little help.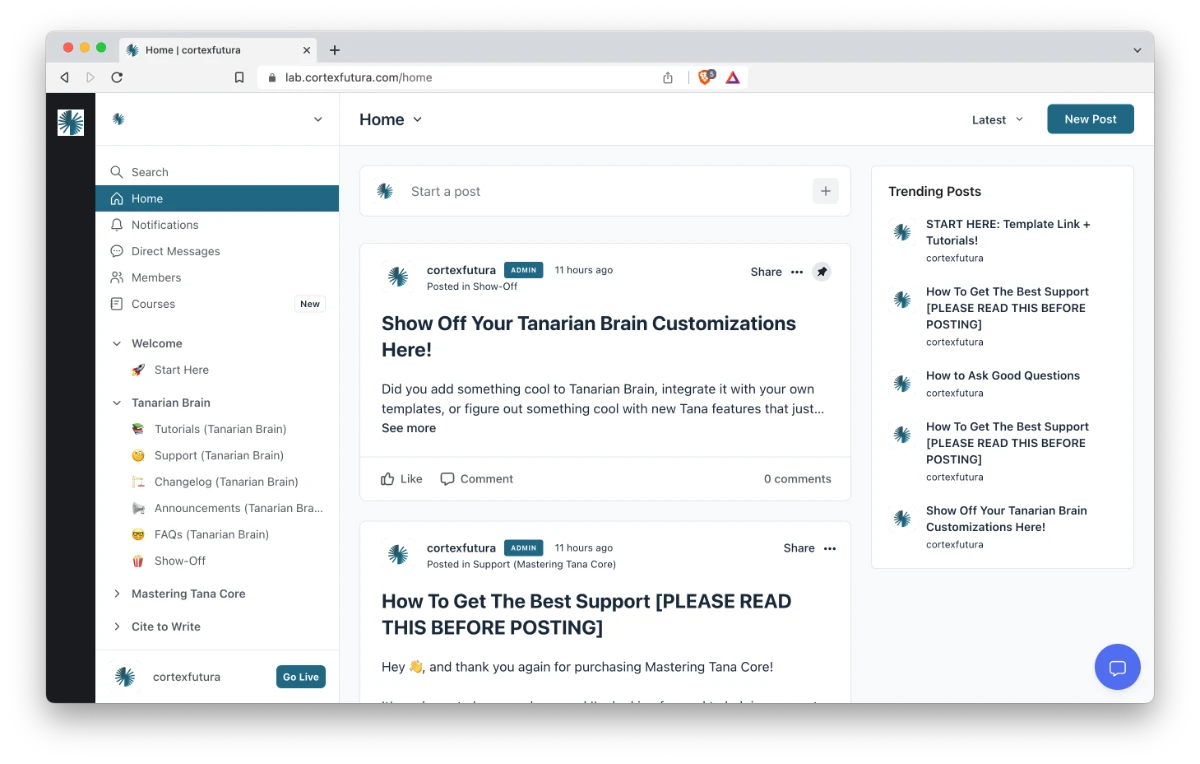 Tanarian Brain includes an expanding library of tutorials, help docs, a full demo template with worked examples of each subsystem of the template, and a support community where you can get your questions answered by on of the foremost Tana experts out there.
The expanding library of tutorials will soon include:
Written guides for every part of the template
Deep integration with the Tanarian Brain demo, so you can explore as you learn
Many video tutorials with in depth explanations
Seriously, these tutorials are so good because I've taught thousands of people advanded techniques for tools like Tana and know how to explain even complex topics to total beginners. This could be advanced course on Tana - and I'll even show you how to build on top of the template.
What People Say About the Tanarian Brain
Buy Tanarian Brain
No subscription. Purchase once and get lifetime access to tutorials and the support community.
Frequently Asked Questions
Yes! I'm very lucky that I'm allowed to let my customers skip Tana's waitlist - as long as spots are available! If you buy the "with Invite"-version of the template, you will get an email with instructions to skip the waitlist. Be aware, however, that I only have a limited number of invites available. When those run out, there's nothing I can do.

It definitely helps if you already know what supertags and live searches are. But the tutorial is explicitly designed so that even total beginners can get the most out of Tanarian Brain.

This template is a fully integrated "Second Brain" that combines and tighly connects many different systems. Building this from scratch would take myself about 20h of configuration alone - and I know what I'm doing and what I want to make happen. You can totally use Tana without this template - Tana is very easy to set up. But if you want a fully built-out system, this template is going to save you many hours of work.

Absolutely. But since this is a Tana template, you're literally copying it into your own Tana workspace. This means there's no way for me to automatically apply updates to your version of Tanarian Brain in your workspace. That's why each update includes a detailed video upgrade guide which will show you exactly how to make any changes I've made to the template.

30-day refunds are available. I've done my very best to make Tanarian Brain the absolute best "Second Brain" implementation for Tana. I also do my best to answer support requests quickly - so please, reach out if you're stuck. However, if you're still not satisfied after asking for support, I'll happily refund your money within 30 days of purchase. You can simply reply to the email confirmation you get after purchase to request one.

Happy to answer and help in any way I can! If it's a quick question, ask me on Twitter for the fastest answer.